What The Hell Is This!?
Come be a part of the fuuuunnest most violently violent spectacle in the galaxy! Freakshow Wrestling! This unbelievable show is a Battle Royal of variety and comedy all unfolding inside the squared circle!
Don't miss the Invisible Steel Cage Match! Boxing Glove Bazookas! Anti-Gravity Match! Whipped Cream Thumb-Tack Pies! Midget Ladder Match! Fire Breathing Clowns! Michael Jackson Knife Fight! Vampires vs Robots! Jesus vs Santa! See a giant octopus attack the ring and so much more…

Our Freaks
Featuring the worlds' best wrestlers, magicians, comedians, sideshow performers, musicians, circus and burlesque as seen on America's Got Talent, Cirque du Soleil, WWE World Wrestling Entertainment, Guinness Book of World Records, Lucha Underground, The Amazing Johnathan Show, the Jim Rose Circus, Penn & Teller's Fool Us and more!
LIVE MUSIC!
Rogues Gallery
Grisly images from the Freakshow Wrestling  live events.
Smashing Expectations
Special Guests
Wrestling!
Magic!
Sideshow!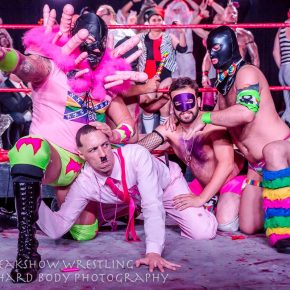 BURLESQUE!
Freakshow Films!
Some of the funkiest flim-flam to hit the internet.